Date: June 24, 2020
Bibliographical Information:
Stedman, Cameron (2018) "My Only Sin Is My Skin – A Musical Chronicle of Systemic Racism in the United States," Race and Pedagogy Journal: Teaching and Learning for Justice: Vol. 3 : No. 1 , Article 13.
Available at: https://soundideas.pugetsound.edu/rpj/vol3/iss1/13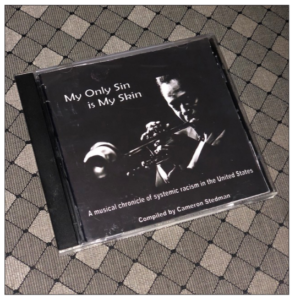 Article Summary:
This article is more of a musical chronical that addresses systematic racism through a compilation of songs, liner notes, and research into racial inequality. As he reflects upon his student-teaching experience as a middle school band teacher and specifically his work with the jazz band. The band in the middle school where he student taught is all-white and, looking back, he discovered that he did not address race, at all, when jazz music offers many opportunities to address the topic of racial inequality. As he came across the work of Sensoy and DiAngelo, which discusses the difference between "multicultural' and "antiracist" he realized that he missed an opportunity to educate these students about their white privilege. The context of his lessons may have even perpetuated racial inequalities by avoiding the topic altogether. His musical compelation included the following songs:
Is It Because I'm Black? -by Sly Johnson
Fables of Faubus– Charles Mingus
Strange Fruit– Billie Holiday
Black and Blue– Louie Armstrong
Living for the City– Stevie Wonder
Mississippi Goddam– Nina Simone
Reflection:
So much of Jazz music is really reflective of Black inequality, as perceived by Black musicians. The reimagining of traditional music rules, crossing boundaries, and reinventing band music in a way that had never happened before. The chords and harmonies use dissonance in new ways and symbolically reflect the dissonance happening in society, at the time. Of course, the Blues is a classic example of hardships experienced by slaves and dates back even further than jazz music. The songs chosen for Cameron Stedman's album all contain lyrics, and so his liner notes have all the lyrics written out. In that way, his listeners can examine the lyrics apart from the music; more as a study of poetry- the meaning and weight of the words are absorbed and studied in a more impactful manner. It's interesting that, as you look up these songs on YouTube and can watch a video of these iconic Black musicians, like Louis Armstrong, Nina Simone, and Billie Holiday, performing on stage for all White audiences, you can see that the average Black person of the time was not allowed to attend concerts, if they could even afford tickets, and the performers had to enter and leave through the back door. The last important connection I would like to highlight is that, as I learn more about Hip Hop, and more specifically, the breakdown of the rhythms used by Hip Hop artists, they typically look to Jazz music for the foundation of their rhythm compilations, bringing Black history, social justice, and the Black Lives Matter movement to their work.