Group Therapy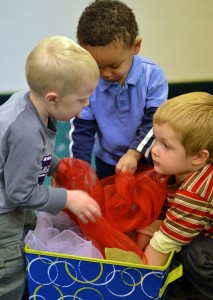 Group Therapy
Some clients have reached a point in their individual therapy where they are ready to generalize their skills to a group setting. In a small group, socialization, group attention and emotional expression can be addressed more effectively.
Groups are designed with each individual's needs in mind and the group members are chosen by the therapist after determining member compatibility.
Group sessions may be the best option for clients that are looking for school readiness skills, socialization and team building skills. Groups are also are more cost effective for families looking for the best use of their therapy dollars. For new clients interested in group therapy, a brief intake and assessment will help the therapist determine the best group placement for the client.

 Price List
METHODOLOGY
Drum Circles
Garage Band
Music Together Within Therapy®